Services
Companies under pressure
Uncertainty and tension are everyday life in companies under the pressure of digitalization today . Employees and executives are increasingly suffering from the demands of constant accessibility and accelerating processes.
Increased absenteeism caused by stress, increasing fluctuation, low creativity and innovative willingness, and not least increasing tensions within teams increase the costs and challenge survival important competitive advantages.
Mega trend Mindfulness
Mindfulness techniques and trainings can counteract these developments and have absolutely nothing to do with esotericism, incense sticks or self-help groups. In many companies, e.g. Google is now using a wide range of mindfulness techniques, countless top athletes and actors rely on the power that flows through mindfulness.
Matthias Horx, founder and owner of the Zukunftsinstitut in Frankfurt, identified mindfulness as one of the mega trends in his "Zukunftsreport 2016". Medical professionals and researchers around the world have demonstrated the positive effects of mindfulness on health, well-being, productivity and performance.
Technology & Mindfulness? Yes, that works.
We offer companies and organizations different services to show how important mindfulness is in the ever-changing and increasingly digital times. We place emphasis on the fact that technology is never demonized or banished from the lives of our participants.
We, the initiators of THE DIGNIFIED SELF, are deeply rooted in the technology and internet scene and know what we are talking about when we speak of "always-on" and "digital overload". But we have learned through mindfulness training to give both worlds their space and thus to combine the best of both. We are, so to speak, professionals in both worlds and can therefore take the necessary bridges.
We have deposited our mission statement here.
What exactly can we do for companies?
DIGNIFIED ICEBREAKERS & DIGNIFIED ROUNDTABLES
Wanna open your event with a mindfulness session, add a special mindful note or look for a 1hr-workshop for people to connect? Then this is for you. Get a quick in-a-nutshell- overview why mindfulness is relevant today and learn first mindfulness practices to further build upon in our DIGNIFIED workshops.
DIGNIFIED WORKSHOPS & DIGNIFICATION TRAININGS
Learn about our mindfulness trainings for companies and project teams with a unique business and technology twist. From 1-day basics to workshop series and mindfulness manifestation programs. Be aware: This program should only be booked by people interested in becoming more efficient, productive, empathetic, creative, satisfied, and successful. Do not book if this list does not apply to you.
THE DIGNIFIED DAY
Book our DIGNIFIED DAY as your next event and experience an unforgettable combination of mindfulness practices and technology gadgets at the same time using our extensive network in these fields. [All customized to your product and event goals]
DIGNIFIED TALK & KEYNOTE
Book a talk / Ignite presentation on the hot topic of mindfulness in the technology age with us. Technology and mindfulness – how is all of that related and why is mindfulness so relevant today in the age of distraction and in constant change? What does it do to our brain? How does it work? Mindfulness apps & hacks. How will Artificial Intelligence effect society and how can we prepare today?
[Talks 15-60 min; German and English]
DIGNIFIED CONSULTANCY
With more than a decade of experience in tech, we support our clients in their digital strategy, their mobile marketing activities, digital project management, competitive decision making and people management / leadership guidance. We help companies to clarify their focus, stay creative, claim their position and to reach their goals with a higher quality, more efficiency and increased satisfaction in times of change. Speak with us if you want to learn how.
What are the effects of mindfulness in business?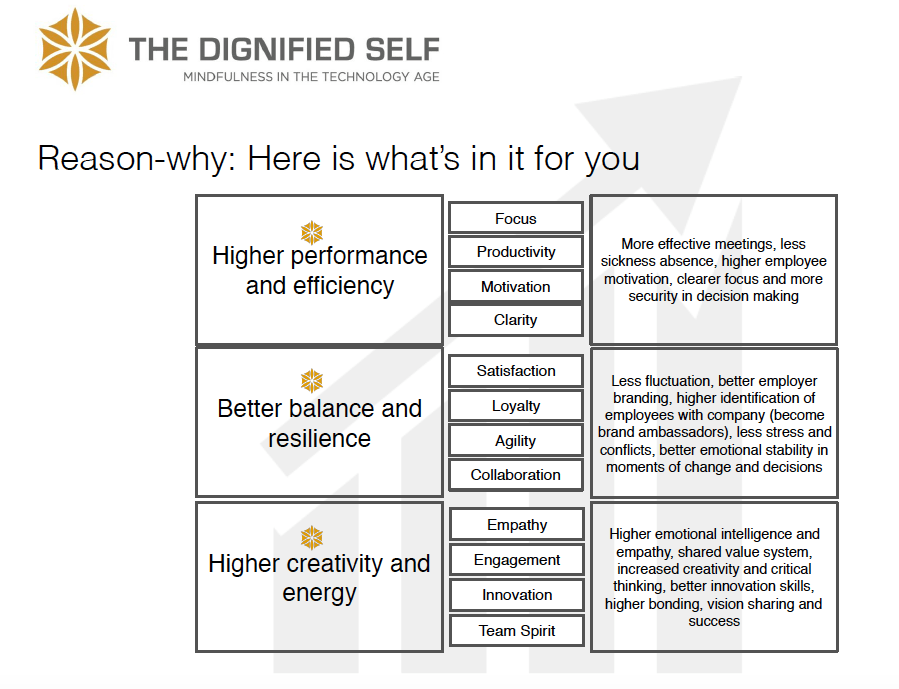 Curious?
We are looking forward to your message and our conversation: info@thedignifiedself.com