As shared in the Scrum Guide, the following 5 core values are key in agile projects:
Courage
Focus
Commitment
Respect
Openness
"Successful use of Scrum depends on people becoming more proficient in living these five values." – Scrum Guide

As openness is one of the core values, it is important to always address the "pink elephant in the room". It is the one thing everybody knows but no one says. In retrospectives it is time to share those thoughts, in order to improve and become better as a team. So always address the pink elephant in the room, even if he is ugly. It is part of the key value of Openness.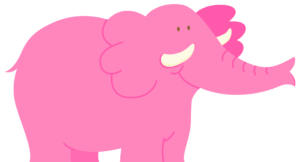 For teams it is more healthy to be honest and open. Otherwise the team spirit might get toxic with time.
So be true. Always!