The book
"Mindfulness in the technology age – a personal guidance to more peace in the acceleration"
by Lilian Güntsche-Hilgendag, Founder of
THE DIGNIFIED SELF
Pragmatic tips and exercises help to live mindful and create a more conscious and calm way of life in over-connected and always accelerating times

Inspiring interviews with respected thought leaders, entrepreneurs, business managers and mindfulness experts motivate to design and walk the individual path of mindfulness 

Very personal and delightfully fresh perspective on our digitally accelerated daily life and its effects
This book introduces an entirely new, unique angle of the highly relevant topic of mindfulness. Is it even possible to work successfully, be always-on, and still be careful with oneself? Yes, it is. 
The author, a confident metropolitan and mindful workaholic with creative hobbies herself, shares her own individual story in this book, accompanied with inspiring interviews and tangible, hand-tight tools to get to more efficiency, success, health and happiness.
A must-read about humanity in a digitally dominated time, a plea for authenticity within rising anonymity and a convincing instruction to more peace in the acceleration. Despite the noise, with this book you will learn to hear you inner voice again and arrive within. 
Preview on the content: 
Why and how mindfulness can and must be combined with a passionate work-spirit
How to stay calm in today's constant acceleration
How to create a healthy balance of virtual and real life and how to get more focussed and happy despite of all the distraction 
Yes. Please notify me as soon as the book "mindfulness in digital times" is available in English too. 
A non-fiction book with a personal note that combines storytelling with concrete tips to implement in everyday's life. Lilian addresses companies as well as individuals and discusses important technology and humanity trends that even more explain the high relevance of a sharpened consciousness today.  
An introduction by Daniel Augsten and Interviews with respected entrepreneurs,  thought leaders, decision makers, business managers and mindfulness experts deliver additional highly interesting insights on the many different ways to practice mindfulness and how it can be successfully implemented (interviews with Karina Leute, Jonathan MacDonald, Inmaculada Martinez, Stefanie Palomino, Heike Scholz, Gabriela Seir, Humberto Schwab, Anja Nothelfer and Rudy de Waele).
The book was launched in November 2016 in Germany by Springer Gabler publishing.  It can be ordered on Amazon here: 

Or directly at Springer publishing.
Half of the interviews in the book are in English language. The entirely English translation is planned for 2017.
Information about the book
Hard-back, about 300 pages, 91 illustrations
Publisher: Springer
Language: German
ISBN: 978-3-658-11089-5
Prize: 19,99 Euro
The eBook is also available here.
About the author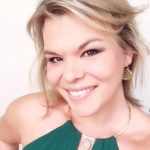 After initially starting her career with a major record label in the music business, Lilian Güntsche-Hilgendag has been working in the digital space for over a decade on all sides of the industry.
She has been successfully running her own company Güntsche Concepts  for several years, and is advising leading cooperations in the areas of digital strategy, marketing and
project management. She is also a jury member within several digital industry awards in the area of mobile health, innovations and education.
In fall 2015 Lilian started an initiative called THE DIGNIFIED SELF™ (thedignifiedself.com), which cultivates mindfulness in the technology age and has already been named in leading publications like Harvard Business Manager, Huffington Post and ManagerMagazine. THE DIGNIFIED SELF™ delivers mindfulness workshops and solutions with a business-technology twist.
Lilian publicly speaks about mindfulness from a modern perspective. She is also a singer and and author. Her book on "mindfulness in the technology age" was published in Germany by Springer Nature in fall 2016. It delivers a unique and fresh perspective on one of the most relevant topics of our time.
Lilian is passionate about singing, yoga, meditation and travelling. She is 36 years old and lives in Berlin.
> Download Lilian's full vita here: Vita_LilianGuentsche_en
More about Lilian in our team area.
_________________________________________________________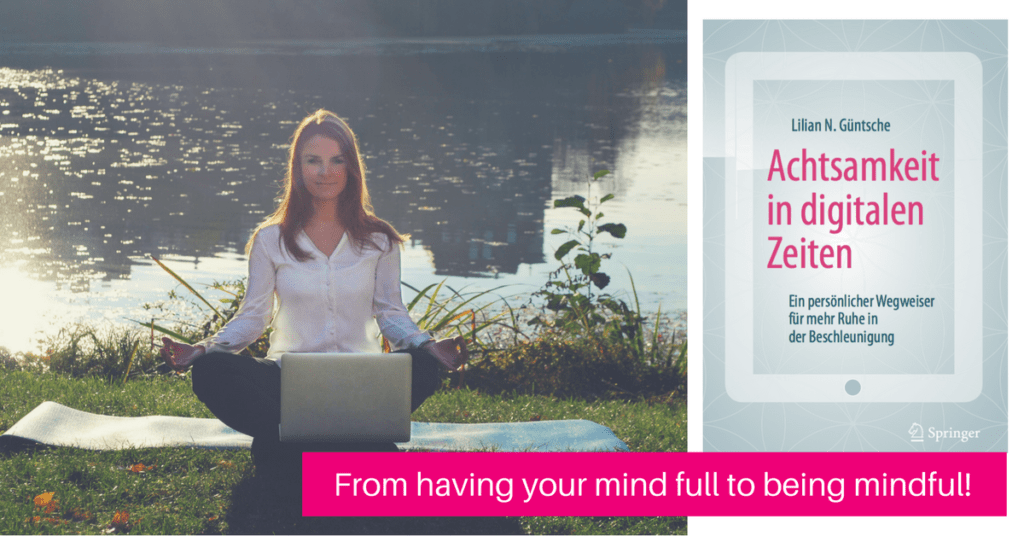 > Book a reading by the author or talk on mindfulness